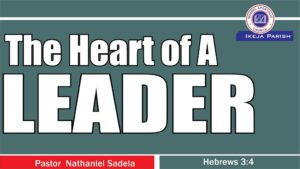 THE HEART OF A LEADER
Hebrews 3:4
Who is a father? A father is a pioneer, a leader, a pacesetter, a progenitor, an originator, cultivator, entrepreneur, investor, seed-sower, a builder, a pillar…
A right decision or choice made by one man can unlock the destiny of a generation.
One step in the right direction of a man today could positively affect his wife and children. When you fix a man, you fix the world around him.
In Matt 12:33, Jesus said 'Make a tree good and its fruits will be good…'
It all begins with God, the Father of all life, the Father of all spirits.
God builds the man, the man builds the woman and the woman builds the house.

The wisdom of the woman would be frustrated if she is not under the leadership of a God-built man.
At the root of any significant building (in terms of family, career, ministry, organization, nation) is a God-made man upon whom has been endowed governmental grace.
Good governance brings peace and orderliness. As a man, you are a building made by God. Jesus said, '…follow Me and I will make you…' The making of a man or a leader starts with the renewal of the heart.

In Gen 12:2, God said to Abraham (formerly called Abram), 'I will make of you, a great nation…'
Many times, we seek for God's blessings without His making.
In any progressive society, there must be men of foresight. There must be men who can see ahead, and not just the hour. The sons of Issachar had the understanding of the times to know what Israel ought to do, therefore their brethren were at their command.
Godly men don't just see things as they are, they see things as they should be – from God's perspective.
God is looking for men whom He would use as agents of change, those who would embark on good works. There can never be good works without the transformation that comes through the renewal of the heart (Rom 12:2).
In Gen 18:17-19, God had declared a good testimony concerning Abraham, even before Isaac was born.
Are you setting the pace on acceptable service unto God for your yet unborn generations? (Psalm 78:1-7).
Remember, God is counting on you, the world is waiting for, expecting your manifestation.
You will not fail in the delivery of your God-given mandate. You are a change-agent! Rise up, take the lead, as the Lord strengthens you and stretches your capacity…

PASTOR NATHANIEL SADELA